Destinations with connections to Bergen Airport (BGO)
Flights, Arrivals & Departures at Bergen Airport
Origin
Airline
Flight no.
Scheduled
Est./Actual
Status
Sogndal (SOG)
Wideroe
WF141
07:40
Scheduled
Oslo (OSL)
Wideroe
WF22 expand_more(1)
09:20
Scheduled
Oslo (OSL)
KLM
KL9169
09:20
Scheduled
Amsterdam (AMS)
KLM
KL1187 expand_more(3)
09:30
Cancelled
Amsterdam (AMS)
Delta Air Lines
DL9306
09:30
Cancelled
Amsterdam (AMS)
Etihad Airways
EY7402
09:30
Cancelled
Amsterdam (AMS)
Kenya Airways
KQ1187
09:30
Cancelled
Copenhagen (CPH)
CityJet
SK2862 expand_more(2)
09:35
Scheduled
Copenhagen (CPH)
Singapore Airlines
SQ2752
09:35
Scheduled
Copenhagen (CPH)
Thai Airways
TG7172
09:35
Scheduled
Stavanger (SVG)
Wideroe
WF524 expand_more(2)
09:40
Scheduled
Stavanger (SVG)
Air France
AF4536
09:40
Scheduled
Stavanger (SVG)
Finnair
AY2680
09:40
Scheduled
Haugesund (HAU)
Wideroe
WF1004 expand_more(2)
09:40
Scheduled
Haugesund (HAU)
Air France
AF5551
09:40
Scheduled
Haugesund (HAU)
Finnair
AY2890
09:40
Scheduled
Aalesund (AES)
Wideroe
WF453 expand_more(2)
09:45
Scheduled
Aalesund (AES)
Air France
AF5542
09:45
Scheduled
Aalesund (AES)
Finnair
AY2655
09:45
Scheduled
Floro (FRO)
Wideroe
WF103 expand_more(3)
09:45
Cancelled
Floro (FRO)
Air France
AF4533
09:45
Cancelled
Floro (FRO)
Finnair
AY2700
09:45
Cancelled
Floro (FRO)
KLM
KL2799
09:45
Cancelled
Torp (TRF)
Wideroe
WF406 expand_more(2)
09:45
Scheduled
Torp (TRF)
Air France
AF4540
09:45
Scheduled
Torp (TRF)
Finnair
AY2904
09:45
Scheduled
Kristiansand (KRS)
Wideroe
WF586 expand_more(3)
09:50
Scheduled
Kristiansand (KRS)
Air France
AF4538
09:50
Scheduled
Kristiansand (KRS)
Finnair
AY2910
09:50
Scheduled
Kristiansand (KRS)
KLM
KL2783
09:50
Scheduled
Gothenburg (GOT)
Wideroe
WF341 expand_more(2)
09:55
Scheduled
Gothenburg (GOT)
Air France
AF4524
09:55
Scheduled
Gothenburg (GOT)
Finnair
AY2657
09:55
Scheduled
Molde (MOL)
Wideroe
WF503 expand_more(1)
09:55
Cancelled
Molde (MOL)
Finnair
AY2676
09:55
Cancelled
Tromso (TOS)
Wideroe
WF621 expand_more(4)
10:10
Scheduled
Tromso (TOS)
Air France
AF5553
10:10
Scheduled
Tromso (TOS)
Finnair
AY2916
10:10
Scheduled
Tromso (TOS)
KLM
KL2805
10:10
Scheduled
Tromso (TOS)
KLM
KL2785
10:10
Scheduled
Trondheim (TRD)
Wideroe
WF1302 expand_more(2)
10:10
Scheduled
Trondheim (TRD)
Finnair
AY2657
10:10
Scheduled
Trondheim (TRD)
KLM
KL2791
10:10
Scheduled
Oslo (OSL)
Norwegian
DY608
10:45
Scheduled
Oslo (OSL)
SAS
SK257 expand_more(1)
10:55
Scheduled
Oslo (OSL)
Air Baltic
BT6129
10:55
Scheduled
Gdansk (GDN)
Wizz Air
W61745
11:30
Scheduled
London (LGW)
Norwegian
DY1315
11:35
Scheduled
Frankfurt (FRA)
Lufthansa
LH874 expand_more(2)
11:55
Scheduled
Frankfurt (FRA)
Air Canada
AC9681
11:55
Scheduled
Frankfurt (FRA)
United Airlines
UA9112
11:55
Scheduled
Stavanger (SVG)
SAS
SK4164
12:40
Scheduled
Aalesund (AES)
Wideroe
WF455 expand_more(3)
12:45
Scheduled
Aalesund (AES)
Air France
AF4525
12:45
Scheduled
Aalesund (AES)
KLM
KL2777
12:45
Scheduled
Aalesund (AES)
KLM
KL2797
12:45
Scheduled
Oslo (OSL)
SAS
SK263 expand_more(2)
12:45
Scheduled
Oslo (OSL)
Lufthansa
LH6076
12:45
Scheduled
Oslo (OSL)
Lufthansa
LH6112
12:45
Scheduled
Stavanger (SVG)
Wideroe
WF532
12:55
Scheduled
Torp (TRF)
Wideroe
WF414 expand_more(1)
12:55
Scheduled
Torp (TRF)
KLM
KL2795
12:55
Scheduled
Molde (MOL)
Wideroe
WF507 expand_more(1)
13:10
Scheduled
Molde (MOL)
KLM
KL2775
13:10
Scheduled
Kristiansund (KSU)
Wideroe
WF569 expand_more(1)
13:20
Scheduled
Kristiansund (KSU)
KLM
KL2769
13:20
Scheduled
Amsterdam (AMS)
KLM
KL1185 expand_more(4)
13:35
Scheduled
Amsterdam (AMS)
Delta Air Lines
DL9331
13:35
Scheduled
Amsterdam (AMS)
Etihad Airways
EY7344
13:35
Scheduled
Amsterdam (AMS)
ITA Airways
AZ3811
13:35
Scheduled
Amsterdam (AMS)
Kenya Airways
KQ1185
13:35
Scheduled
Trondheim (TRD)
Wideroe
WF675
13:40
Scheduled
Oslo (OSL)
Norwegian
DY612
14:15
Scheduled
Alicante (ALC)
Norwegian
DY1831
14:30
Scheduled
Aberdeen (ABZ)
Wideroe
WF395
14:40
Scheduled
Hamburg (HAM)
Wideroe
WF1859
15:25
Scheduled
Alicante (ALC)
Wideroe
WF1523
15:50
Scheduled
Copenhagen (CPH)
SAS
SK2868 expand_more(4)
15:50
Scheduled
Copenhagen (CPH)
Croatia Airlines
OU5642
15:50
Scheduled
Copenhagen (CPH)
Lufthansa
LH6290
15:50
Scheduled
Copenhagen (CPH)
TAP Air Portugal
TP5585
15:50
Scheduled
Copenhagen (CPH)
Turkish Airlines
TK8208
15:50
Scheduled
Oslo (OSL)
SAS
SK269 expand_more(3)
15:50
Scheduled
Oslo (OSL)
Air Baltic
BT6128
15:50
Scheduled
Oslo (OSL)
Lufthansa
LH6116
15:50
Scheduled
Oslo (OSL)
Turkish Airlines
TK8274
15:50
Scheduled
Trondheim (TRD)
SAS
SK4163
15:50
Scheduled
Trondheim (TRD)
Wideroe
WF677
16:10
Scheduled
Tromso (TOS)
Wideroe
WF625
16:20
Scheduled
Torp (TRF)
Wideroe
WF418
16:20
Scheduled
Kristiansand (KRS)
Wideroe
WF590 expand_more(1)
16:25
Scheduled
Kristiansand (KRS)
KLM
KL2801
16:25
Scheduled
Stavanger (SVG)
Wideroe
WF536
16:30
Scheduled
Haugesund (HAU)
Wideroe
WF1012 expand_more(1)
16:35
Scheduled
Haugesund (HAU)
KLM
KL2781
16:35
Scheduled
Bodo (BOO)
Wideroe
WF615 expand_more(1)
16:55
Scheduled
Bodo (BOO)
KLM
KL2767
16:55
Scheduled
Oslo (OSL)
SAS
SK277 expand_more(1)
17:10
Scheduled
Oslo (OSL)
Lufthansa
LH6080
17:10
Scheduled
Amsterdam (AMS)
KLM
KL1189 expand_more(6)
17:15
Scheduled
Amsterdam (AMS)
Air France
AF8295
17:15
Scheduled
Amsterdam (AMS)
Delta Air Lines
DL9588
17:15
Scheduled
Amsterdam (AMS)
Etihad Airways
EY5810
17:15
Scheduled
Amsterdam (AMS)
GOL Linhas Aereas
G35699
17:15
Scheduled
Amsterdam (AMS)
ITA Airways
AZ3764
17:15
Scheduled
Amsterdam (AMS)
Kenya Airways
KQ1189
17:15
Scheduled
Vantaa (HEL)
Wideroe
AY941 expand_more(2)
17:20
Scheduled
Vantaa (HEL)
Jet Linx Aviation
JL8303
17:20
Scheduled
Vantaa (HEL)
Qatar Airways
QR6173
17:20
Scheduled
Stavanger (SVG)
SAS
SK4184
18:00
Scheduled
Oslo (OSL)
SAS
SK281
19:00
Scheduled
Las Palmas (LPA)
Sunclass Airlines
DK1523
19:05
Scheduled
Oslo (OSL)
SAS
SK287 expand_more(3)
21:00
Scheduled
Oslo (OSL)
Lufthansa
LH6114
21:00
Scheduled
Oslo (OSL)
TAP Air Portugal
TP5532
21:00
Scheduled
Oslo (OSL)
Turkish Airlines
TK8216
21:00
Scheduled
Copenhagen (CPH)
SAS
SK2870 expand_more(5)
22:25
Scheduled
Copenhagen (CPH)
Air Baltic
BT6206
22:25
Scheduled
Copenhagen (CPH)
Austrian Airlines
OS7581
22:25
Scheduled
Copenhagen (CPH)
Lufthansa
LH6038
22:25
Scheduled
Copenhagen (CPH)
Swiss
LX4804
22:25
Scheduled
Copenhagen (CPH)
Turkish Airlines
TK8266
22:25
Scheduled
Amsterdam (AMS)
KLM
KL1193 expand_more(5)
22:50
Scheduled
Amsterdam (AMS)
Air France
AF8297
22:50
Scheduled
Amsterdam (AMS)
Etihad Airways
EY7314
22:50
Scheduled
Amsterdam (AMS)
GOL Linhas Aereas
G35679
22:50
Scheduled
Amsterdam (AMS)
ITA Airways
AZ3766
22:50
Scheduled
Amsterdam (AMS)
Kenya Airways
KQ1193
22:50
Scheduled
Las Palmas (LPA)
SAS
SK4694
22:55
Scheduled
Tenerife (TFS)
Norwegian
DY1715
23:25
Scheduled
Destination
Airline
Flight no.
Scheduled
Est./Actual
Status
Copenhagen (CPH)
SAS
SK2861 expand_more(7)
06:00
Scheduled
Copenhagen (CPH)
Air Baltic
BT6200
06:00
Scheduled
Copenhagen (CPH)
Air Canada
AC9905
06:00
Scheduled
Copenhagen (CPH)
Austrian Airlines
OS7534
06:00
Scheduled
Copenhagen (CPH)
Croatia Airlines
OU5643
06:00
Scheduled
Copenhagen (CPH)
Lufthansa
LH6035
06:00
Scheduled
Copenhagen (CPH)
Singapore Airlines
SQ2667
06:00
Scheduled
Copenhagen (CPH)
Swiss
LX4749
06:00
Scheduled
Frankfurt (FRA)
Lufthansa
LH877 expand_more(2)
06:10
Scheduled
Frankfurt (FRA)
Air Canada
AC9672
06:10
Scheduled
Frankfurt (FRA)
TAP Air Portugal
TP6711
06:10
Scheduled
Amsterdam (AMS)
KLM
KL1184 expand_more(5)
06:10
Scheduled
Amsterdam (AMS)
Air France
AF8292
06:10
Scheduled
Amsterdam (AMS)
Delta Air Lines
DL9351
06:10
Scheduled
Amsterdam (AMS)
Etihad Airways
EY7345
06:10
Scheduled
Amsterdam (AMS)
GOL Linhas Aereas
G35682
06:10
Scheduled
Amsterdam (AMS)
Kenya Airways
KQ1184
06:10
Scheduled
Alicante (ALC)
Norwegian
DY1830
06:20
Scheduled
Oslo (OSL)
SAS
SK238 expand_more(1)
07:00
Scheduled
Oslo (OSL)
Lufthansa
LH6119
07:00
Scheduled
London (LGW)
Norwegian
DY1314
07:00
Scheduled
Gran Canaria (LPA)
Sunclass Airlines
DK1522
07:00
Scheduled
Alicante (ALC)
Wideroe
WF1522
07:45
Scheduled
Gran Canaria (LPA)
SAS
SK7365
07:50
Scheduled
Oslo (OSL)
Norwegian
DY609
08:30
Scheduled
Sogndal (SOG)
Wideroe
WF144
08:35
Scheduled
Oslo (OSL)
SAS
SK248 expand_more(1)
08:45
Scheduled
Oslo (OSL)
Lufthansa
LH6011
08:45
Scheduled
Amsterdam (AMS)
KLM
KL1188 expand_more(2)
10:00
Cancelled
Amsterdam (AMS)
Delta Air Lines
DL9410
10:00
Cancelled
Amsterdam (AMS)
Etihad Airways
EY7008
10:00
Cancelled
Copenhagen (CPH)
CityJet
SK2865 expand_more(5)
10:10
Scheduled
Copenhagen (CPH)
Lufthansa
LH6197
10:10
Scheduled
Copenhagen (CPH)
Swiss
LX4729
10:10
Scheduled
Copenhagen (CPH)
TAP Air Portugal
TP5555
10:10
Scheduled
Copenhagen (CPH)
Thai Airways
TG7173
10:10
Scheduled
Copenhagen (CPH)
Turkish Airlines
TK8209
10:10
Scheduled
Trondheim (TRD)
Wideroe
WF674
10:25
Scheduled
Kristiansund (KSU)
Wideroe
WF568 expand_more(1)
10:35
Scheduled
Kristiansund (KSU)
KLM
KL2778
10:35
Scheduled
Oslo (TRF)
Wideroe
WF411 expand_more(1)
10:35
Scheduled
Oslo (TRF)
KLM
KL2789
10:35
Scheduled
Gran Canaria (LPA)
SAS
SK4693
10:40
Scheduled
Alesund (AES)
Wideroe
WF454 expand_more(1)
10:40
Scheduled
Alesund (AES)
KLM
KL2788
10:40
Scheduled
Hamburg (HAM)
Wideroe
WF1858
10:45
Scheduled
Molde (MOL)
Wideroe
WF506 expand_more(1)
10:55
Scheduled
Molde (MOL)
KLM
KL2766
10:55
Scheduled
Stavanger (SVG)
Wideroe
WF531
10:55
Scheduled
Tromso (TOS)
Wideroe
WF624 expand_more(2)
11:00
Scheduled
Tromso (TOS)
Finnair
AY2741
11:00
Scheduled
Tromso (TOS)
KLM
KL2794
11:00
Scheduled
Oslo (OSL)
SAS
SK262 expand_more(2)
11:25
Scheduled
Oslo (OSL)
Air Baltic
BT6123
11:25
Scheduled
Oslo (OSL)
Lufthansa
LH6053
11:25
Scheduled
Aberdeen (ABZ)
Wideroe
WF394
11:25
Scheduled
Tenerife (TFS)
Norwegian
DY1714
11:35
Scheduled
Bodo (BOO)
Wideroe
WF614 expand_more(1)
12:05
Scheduled
Bodo (BOO)
KLM
KL2790
12:05
Scheduled
Gdansk (GDN)
Wizz Air
W61746
12:05
Scheduled
Helsinki (HEL)
Wideroe
AY942 expand_more(2)
12:05
Scheduled
Helsinki (HEL)
Jet Linx Aviation
JL8302
12:05
Scheduled
Helsinki (HEL)
Qatar Airways
QR6787
12:05
Scheduled
Gran Canaria (LPA)
Norwegian
DY1838
12:25
Scheduled
Frankfurt (FRA)
Lufthansa
LH875 expand_more(3)
12:40
Scheduled
Frankfurt (FRA)
Air Canada
AC9675
12:40
Scheduled
Frankfurt (FRA)
TAP Air Portugal
TP6693
12:40
Scheduled
Frankfurt (FRA)
United Airlines
UA9130
12:40
Scheduled
Trondheim (TRD)
SAS
SK4164
13:05
Scheduled
Oslo (OSL)
SAS
SK268 expand_more(1)
13:15
Scheduled
Oslo (OSL)
Lufthansa
LH6037
13:15
Scheduled
Trondheim (TRD)
Wideroe
WF676 expand_more(1)
13:30
Scheduled
Trondheim (TRD)
Finnair
AY2651
13:30
Scheduled
Stavanger (SVG)
Wideroe
WF533 expand_more(1)
14:05
Scheduled
Stavanger (SVG)
Air France
AF4539
14:05
Scheduled
Oslo (TRF)
Wideroe
WF415 expand_more(2)
14:10
Scheduled
Oslo (TRF)
Air France
AF5546
14:10
Scheduled
Oslo (TRF)
KLM
KL2793
14:10
Scheduled
Kristiansand (KRS)
Wideroe
WF589 expand_more(2)
14:15
Scheduled
Kristiansand (KRS)
Air France
AF4537
14:15
Scheduled
Kristiansand (KRS)
KLM
KL2784
14:15
Scheduled
Amsterdam (AMS)
KLM
KL1186 expand_more(3)
14:20
Scheduled
Amsterdam (AMS)
Delta Air Lines
DL9401
14:20
Scheduled
Amsterdam (AMS)
Etihad Airways
EY7363
14:20
Scheduled
Amsterdam (AMS)
Kenya Airways
KQ1186
14:20
Scheduled
Oslo (OSL)
Wideroe
WF25 expand_more(2)
14:20
Scheduled
Oslo (OSL)
Finnair
AY2653
14:20
Scheduled
Oslo (OSL)
KLM
KL9168
14:20
Scheduled
Oslo (OSL)
Norwegian
DY625
15:00
Scheduled
Haugesund (HAU)
Wideroe
WF1011 expand_more(2)
15:15
Scheduled
Haugesund (HAU)
KLM
KL2792
15:15
Scheduled
Haugesund (HAU)
KLM
KL2804
15:15
Scheduled
Malaga (AGP)
Norwegian
DY1752
15:25
Scheduled
Stavanger (SVG)
SAS
SK4163
16:15
Scheduled
Oslo (OSL)
SAS
SK274 expand_more(2)
16:20
Scheduled
Oslo (OSL)
Lufthansa
LH6139
16:20
Scheduled
Oslo (OSL)
TAP Air Portugal
TP5559
16:20
Scheduled
Copenhagen (CPH)
SAS
SK2873 expand_more(3)
16:25
Scheduled
Copenhagen (CPH)
Air Baltic
BT6201
16:25
Scheduled
Copenhagen (CPH)
Lufthansa
LH6019
16:25
Scheduled
Copenhagen (CPH)
Swiss
LX4733
16:25
Scheduled
Stavanger (SVG)
Wideroe
WF539
17:25
Scheduled
Trondheim (TRD)
Wideroe
WF678
17:25
Scheduled
Haugesund (HAU)
Wideroe
WF1013
17:35
Scheduled
Oslo (TRF)
Wideroe
WF421
17:40
Scheduled
Alesund (AES)
Wideroe
WF458 expand_more(1)
17:40
Scheduled
Alesund (AES)
KLM
KL2802
17:40
Scheduled
Kristiansand (KRS)
Wideroe
WF591 expand_more(1)
17:40
Scheduled
Kristiansand (KRS)
KLM
KL2786
17:40
Scheduled
Floro (FRO)
Wideroe
WF114 expand_more(1)
17:50
Scheduled
Floro (FRO)
KLM
KL2776
17:50
Scheduled
Oslo (OSL)
SAS
SK284
17:50
Scheduled
Tromso (TOS)
Wideroe
WF628 expand_more(2)
17:55
Scheduled
Tromso (TOS)
Finnair
AY2745
17:55
Scheduled
Tromso (TOS)
KLM
KL2806
17:55
Scheduled
Gothenburg (GOT)
Wideroe
WF346
18:00
Scheduled
Amsterdam (AMS)
KLM
KL1190 expand_more(2)
18:00
Scheduled
Amsterdam (AMS)
Etihad Airways
EY7332
18:00
Scheduled
Amsterdam (AMS)
Kenya Airways
KQ1190
18:00
Scheduled
Oslo (OSL)
SAS
SK286
19:40
Scheduled
Flying To and From Bergen Airport
This page provides information about the destinations that can be reached via Bergen Airport.
Was your flight delayed or cancelled?
You may be eligible to receive up to 600 EUR compensation per person in your party..
Claim Now!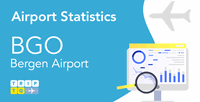 Bergen Airport achieves staggering growth in Q2 2023, with passenger numbers soaring by an impressive 500.16% compared to 2020. Compared to Q2 2021, the airport experienced a remarkable 216% surge.