Bergen Airport Arrivals (BGO)
Not all flights may be showing. If not available use search above to find your flight by airline, airport or flight number.
Origin
Airline
Flight no.
Scheduled
Est./Actual
Status
No flight arrivals were found at Bergen Airport.
Flight Arrivals at Bergen Airport
Bergen Airport was opened in 1955 and has since served both scheduled and seasonal flights to further European destinations as well as several regional flights in Norway. The airport is the second-busiest airport in Norway, with 6,306,623 passengers in 2018. The passenger number is still increasing year by year. Bergen Airport is operated by the state-owned Avinor. Until 1999, Flesland Air Station of the Norwegian Air Force was co-located at this airport.
Bergen Airport Ground Transportation
Bergen Airport, Flesland is located approximately 9.9 miles/16 km south of Bergen City Center, Norway.
Passengers traveling to and from Bergen Airport can find simple and comfortable transfer opportunities, including:
Trains: The light rail transfers visitors between Bergen Airport to Byparken (Bergen city center) within 45 minutes.
Buses: The Airport Express bus drives an express route that only takes 20 minutes from the airport to the Bergen Bus Station. Passengers can also take the local bus route 23 to Loddefjord, Storavatnet, and Sotra from Bergen Airport. The bus stop is just outside the terminal building.
Taxis: Taxis are available on the ground transportation area outside the main terminal at Bergen Airport. A taxi trip from Bergen Airport to the City Center of Bergen takes approximately 20 minutes.
Airport Shuttles: You can find various hotels and resorts that provide a shuttle service for your disposal to get you to and from BGO Airport.
Car Rental Companies: All passengers at Bergen Airport can book a rental vehicle through one of the operating car rental companies that serve the airport.
Bergen Airport is located close to the City Center of Bergen and a car ride only takes around 25 minutes, depending on traffic. Travelers should follow signs to Flesland and drive along the E39 and Rv580 highway to the airport and the terminal.
The address of the BGO Airport can be found below:
Bergen Airport, Flesland
Flyplassvegen 555
5258 Bergen
Norway.
If you have any questions or concerns you can contact Bergen Airport by telephone on +47 67 03 15 55
Drop-off and pick-up of passengers at Bergen Airport
All guests at Bergen Airport can find easily accessible drop-off and pick-up areas.
If you are going to drop off a passenger at BGO Airport, you can drive up to the departure level in front of the terminal. Please drive onto the bridge outside the airport terminal and keep in the left lane. Be aware that these spaces are intended for dropping off and not parking. Should you choose to park, you are advised to use the short-term parking at the arrival level below, or one of the other parking areas.
Any entry and exit within 7 minutes are free of charge. After 7 minutes, parking at these paces costs NOK 50 per 20 minutes from the time you entered.
If you want to pick someone up from the airport, you should use the parking facilities at P1. This is the parking area on the arrivals level, placed right in front of the terminal.
The first 7 minutes from entry to exit are free of charge. After 7 minutes, parking here costs NOK 50 per 20 minutes from the time you entered.
For more information on how to access the pick-up and drop-off, areas please visit this website.

If you have any questions or concerns, you can contact the airport staff at BGO Airport on telephone number: +47 22 05 75 00 or by using the contact form here: https://apcoasupport.no/english_contact/
Bergen Airport - Special Need Services
All travelers with special needs or reduced mobility are entitled to get special service at Bergen Airport. At BGO Airport there will be assigned staff to help assist passengers with disabilities around the clock, every day of the year. However, please make sure that you make a relevant request at least 48 hours prior to the departure of your flight.

Once arriving at the airport you will meet the service assistance at your agreed meeting point. This will be arranged before your arrival at the airport. You can be met by a member of staff in the following places:
By the train, bus, taxi or when you arrive by car
After check-in
By the gate (upon departure)
By the plane door or inside the plane (on arrival)
For further information, please visit Bergen Airport's Assistance page.
Was your flight delayed or cancelled?
You may be eligible to receive up to 600 EUR compensation per person in your party..
Claim Now!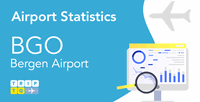 Bergen Airport achieves staggering growth in Q2 2023, with passenger numbers soaring by an impressive 500.16% compared to 2020. Compared to Q2 2021, the airport experienced a remarkable 216% surge.