Bergen Airport Departures (BGO)
Not all flights may be showing. If not available use search above to find your flight by airline, airport or flight number.
Destination
Airline
Flight no.
Scheduled
Est./Actual
Status
No flight departures were found at Bergen Airport.
Flight Departures at Bergen Airport
At Bergen Airport, passengers will be able to find a nice offering of shopping and dining options within the main airport terminal. All passengers can also enjoy special services at the airport, including ATM's, luggage wrapping, smoking allowed areas, parenting rooms, free WiFi connection, as well as assistance for passengers with special needs.
Shops and Restaurants at Bergen Airport
Bergen Airport offers a great selection of dining opportunities to choose from for all travelers. You can enjoy everything from a snack, a light meal to a delicious experience at the airport. At BGO you can choose between vegan, vegetarian, gluten-free, lactose-free, grab & go, and kids menus. Some of the cafes and restaurants at the airport include Starbucks, Fiskeriet, Joe & the Juice, Northland, Upper Crust, Espresso House, and Deli de Luca. For a full list of all the airport food and drink offerings please refer to this website.
Passengers will also find a number of shops and stores available at Bergen Airport. Here you will be able to shop for clothing and accessories of leading brands as well as some of the most basic items including magazines, telephone cards, newspapers, books, skincare products, cosmetics, sweets, tobacco and more. Travelers can shop at the tax-free shop as well as in one of the other stores including Travel Value, Tanum, Ting, and Point. You can find a full list of all the shops at Bergen Airport here.
Free WiFi Connection at Bergen Airport
At Bergen Airport, passengers can get access to a free WiFi connection. Simply choose the WiFi named: AIRPORT, once you are at the airport. You will find WiFi in the terminal areas including both sides of security, as well as throughout the remaining areas of the airport terminal building on both the ground level and level one.
For visitors to get online, you simply have to select the airport WiFi connection. Then you will have to launch a web browser on your device where you will visit the welcome page. Select the "Free" option and follow the instructions on the screen. Once you have accepted the term and conditions of use, you will be able to access the internet at the airport.
All visitors get four hours of free internet access. If you need more time, you can just log in again. You also have the choice to buy more time and faster connections.
Bergen Airport Parking
All visitors can find easy and convenient parking facilities at Bergen Airport. The parking area at the airport is a nice location that gives travelers direct access to the airport terminal within a short time. The convenient location can help you save time before your next flight, or if you are going to pick up a passenger.
Bergen Airport offers more than 5,000 parking spaces. No matter what parking space you choose, it is only a short walk to the main terminal building.
At Bergen Airport, passengers have several parking options to choose from. You can find both short-term parking and long-term parking at the airport.
Short-term Parking
With short-term parking, you get a comfortable solution where you can park your car at a parking space close to the main terminal building. This is often used by families with children and business travelers as it is a quick and convenient parking option.
The short-term parking spaces can be found at P1 and P2.
P1 is the parking area on the arrivals level, right in front of the terminal building. The area is convenient when picking passengers up, or if you need to park as close as possible to the terminal.
P2 is located just a 1-3 minutes' walk from the terminal and is a covered parking garage.
Long-stay Parking
Long-stay parking is another parking option at BGO Airport and the parking lots are located throughout the airport premises. These are all located within a 3-12 minute walk from the airport terminal. This is the most economical parking solution for all passengers.
The long-stay parking spaces can be found at P5, P6, P7 as well as P8, P9, P10, P11, P12, P13, P14, P15, and P16.
Parking lots P5, P6, P7, P12 & P13 are located a 3-8 minutes' walk from the terminal.
Parking lots P8, P14 & P15 are located an 8-12 minutes' walk from the terminal.
Parking rates at P16 is located a 1-3 minutes' walk from the terminal.
Handicapped parking
People with reduced mobility will find that Bergen Airport offers parking spaces available for disabled at all parking areas. These can be found in the following places:
P1: Short stay next to the terminal: 6 spaces
P2: Indoor parking: 8 spaces
P5: 3 spaces
P8: 3 spaces
P11: Helicopter terminal: 2 spaces
Further information about parking and rates here.
Please find a map of the parking facilities at the airport here.
If you have any questions or concerns, you can contact the airport staff at BGO Airport on telephone number: +47 22 05 75 00 or by using the contact form here: https://apcoasupport.no/english_contact/
Getting to and from Bergen Airport
Bergen Airport, Flesland is located approximately 9.9 miles/16 km south of Bergen City Center, Norway.
Passengers traveling to and from Bergen Airport can find simple and comfortable transfer opportunities, including:
Was your flight delayed or cancelled?
You may be eligible to receive up to 600 EUR compensation per person in your party..
Claim Now!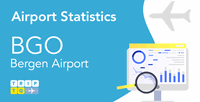 Bergen Airport achieves staggering growth in Q2 2023, with passenger numbers soaring by an impressive 500.16% compared to 2020. Compared to Q2 2021, the airport experienced a remarkable 216% surge.