BERGEN AIRPORT (BGO) INFORMATION
Origin
Airline
Flight no.
Scheduled
Est./Actual
Status
No flight arrivals were found at Bergen Airport.
Destination
Airline
Flight no.
Scheduled
Est./Actual
Status
No flight departures were found at Bergen Airport.
Car Hire at Bergen Airport
UNBEATABLE VALUE CAR RENTAL
Free Amendments | Free Cancellations | No Card Fees




Bergen Airport - All Information on Bergen Airport, Flesland (BGO) Bergen Airport
Flyplassvegen 555, 5258 Bergen, Norway.
phone +47 67 03 15 55
phone+47 6703 1555 (Lost + Found)
emailinfosenteret.bergen@avinor.no
call_end+47 55 99 80 10 (fax)
Facts and History about Bergen Airport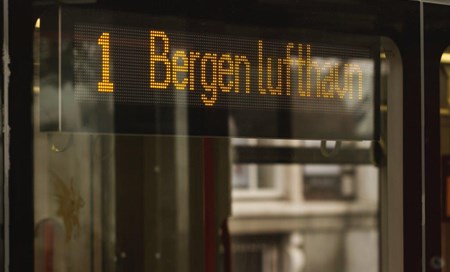 Bergen Airport, Flesland (Norwegian: Bergen lufthavn, Flesland) is located approximately 9.9 miles/16 km south of Bergen City Center, Norway. The nearest alternative airport is Haugesund Airport, Karmøy located 94 miles/151 km from Bergen Airport. The capital city of Norway is Oslo.
The airport is known locally as Bergen Flesland Airport or simply Flesland Airport. It is the second busiest airport in Norway after Oslo Airport and handled 6,306,623 passengers in 2018.
Bergen Airport carries the international airport code of BGO (IATA) and ENBR (ICAO). The airport sits in a slightly elevated location at 166 feet/51 meters above sea level at 60°17′37″ N and 005°13′05″ E.
Arrivals, Departures and Airlines at Bergen Airport
Airport Access
All travelers with disabilities or reduced mobility (PRM) can easily get around Bergen Airport. At BGO Airport there will be assigned staff to help provide any assistance to passengers with disabilities around the clock, every day of the year. However, please make sure that you make a relevant request at least 48 hours prior to the departure of your flight. Furthermore, you can find designated parking areas close to the passenger terminal.
Getting to Bergen Airport is easy by road. Simply follow the signs to Flesland and drive the E39 and Rv580 highway to the airport and the terminal. At the airport, passengers have a broad selection of car parking options to choose from, as Bergen airport offers more than 5,000 parking spaces.
Terminal Information
Bergen Airport operates one runway, which is 9,810 feet/2,990 meters long. All passengers will find one main terminal at the airport, which includes both domestic and international operations.
The main terminal at the airport covers an area of 230,000 sq. ft./21,000 square meters of which 153,000 sq. ft./14,200 square meters are used for passenger areas. However, the existing terminal was originally established for 2.8 million passengers which is no longer sufficient. Year after year, the airport has seen traffic grow by an average of 6 % per year, and today Bergen Airport assists more than 6 million passengers a year. Therefore, a new flexible airport terminal project was started in 2014. This should connect the existing terminal with the new terminal. The project was finished in august 2017.
Passengers will find gates at the new terminal numbered from B15 to B20. They are served by domestic flights. International flights depart from the older 1988 terminal, which has 9 jet bridges, numbered 23 through 29, 31 and 32.
Please refer to the airport map for more information.
Airport Information
ATM's are available at Bergen Airport. These are located at:
Arrival hall 1st floor
In the arrival hall, you can find three ATMs and coin roll dispensers. These are available to all travelers at the airport.
There is also an ATM at the Helicopter Terminal, which is available to all.
Departure/arrival hall 2nd floor
Passengers can find several ATM's located in the departure/arrival areas in central locations. DNB offers 13 of the most common currency cards in the ATM's. For more information, please visit DNB's website.
Please note that due to changes in Norwegian rules, the currency exchange machines at Bergen Airport have unfortunately been removed.
If you have lost your baggage at Bergen Airport, you have to contact the ground-handling agent for your specific airline. You can find more information on your airline's website. The ground-handling agents at Bergen Airport can be found below:
Widerøe Ground Handling
Air France, Atlantic Airways, British Airways, Finnair, Iceland air, KLM, SAS, Widerøe, Sunclass Airlines, and Swiss.
E-mail: bag.bgo@wideroe.no
Aviator
Iberia, Jet2.com, Loganair, Norwegian, Primera Air, Sata, SunExpress, Tailwind, Vueling, Wizz Air.
Phone: +47 982 98 521
E-mail: ll.bgo@aviator.eu
If you are unfortunate and have lost anything in the airport terminal, the airport bus, on the plane or in the security check you, need to contact Avinor service center. This can be found in the arrival hall at Bergen Airport.
You will be able to see all items submitted to the lost and found department at the airport, within 24 hours on missingx.com. You can access the online Lost and Found Property platform here.
Car Rentals
Several of the major rental car companies provide car hire at Bergen Airport, including Avis, Budget, Europcar, Hertz, Thrifty, and SIXT. You will also find the local car hire company Keddy By Europcar at the airport.
We highly recommend that all travelers make their car hire reservations as soon as possible before arriving at Bergen Airport. This is due to the fact that there is only a limited number of vehicles available for walk-up consumers.
Transport
All travelers can enjoy easy travel options to and from the airport via light rail, buses, and taxis as well as car rental.
All travelers can use the light rail transfer between Bergen Airport to Byparken (Bergen city center) within 45 minutes. Another option is to take the Airport Express bus that drives an express route, which only takes 20 minutes from the airport to the Bergen Bus Station. Passengers can also take the local bus route 23 to Loddefjord, Storavatnet, and Sotra from Bergen Airport. The bus stop is just outside the terminal building.
Furthermore, taxis are available on the ground transportation area outside the main terminal at Bergen Airport. A taxi trip from Bergen Airport to the City Center of Bergen takes approximately 20 minutes.
Hotels near Bergen Airport
There are a number of hotels to suit all budgets and requirements at or near Bergen Airport.
Parking at Bergen Airport
See options for parking services at Bergen Airport.
Additional Services and Amenities at Bergen Airport
At Bergen Airport you will find the usual array of bars and restaurants, airport lounges and shops.
Things to do in Bergen
There are a number of activities to suit all ages and interests in the region - see a selection of tourist activities in Bergen City, Norway.
Airport Contacts
Address: Flyplassvegen 555, 5258 Bergen, Norway.
Phone: +47 67 03 15 55
Phone: N/A (Lost & Found)
General Email: infosenteret.bergen@avinor.no
Lost & Found Online Property Platform: https://www.missingx.com/
Official website: https://avinor.no/en/airport/bergen-airport/
Local Information
Drive on: Right
Electricity: 230V/50Hz
Plug Type: C, F
Currency: Norwegian Kroner (NOK)
Services at Bergen Airport
Useful Information about Bergen Airport